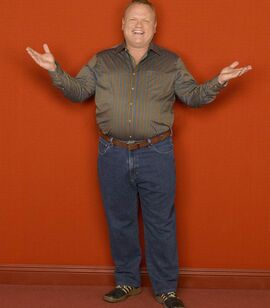 Andrew or Andy is the brother of Cheryl and Dana. Their mother's name is Maggie and father's name is unknown.
He is an uncle to Ruby, Gracie, Kyle, Jonathan and Gordon and Dana's son Tanner. He is the brother in law and best friend of Jim (Cheryl's husband) as well as being a brother in law and friend to Ryan (Dana's husband).
Andy is Jim's best friend and serves to be his right hand during fights with Cheryl. Andy is also roped in or masterminds the duo's many schemes. He is the only one of his siblings that is yet to be married. He lives across the street from Jim and Cheryl and is one of the main characters. He works as an architect in Ground Up Contracting with Jim, and it is suggested he is intelligent as he is a graduate of Stanford University. 
Andrew/Andy is played by the actor Larry Joe Campbell .